Voice Command Considerations When Picking a Name for Your New Radio Station
By: Seth Resler
Jacobs Media Strategies
When gearing up to launch a new radio station, one of the most important decisions you can make is the name of that station. Naturally, there are all sorts of traditional branding factors that go into this decision. But as voice command interfaces like Alexa and Siri continue to rise in popularity, it's becoming increasingly important to also take this into consideration as well. In our annual Techsurvey, the largest online survey of radio listeners, we have seen smart speaker ownership grow each year: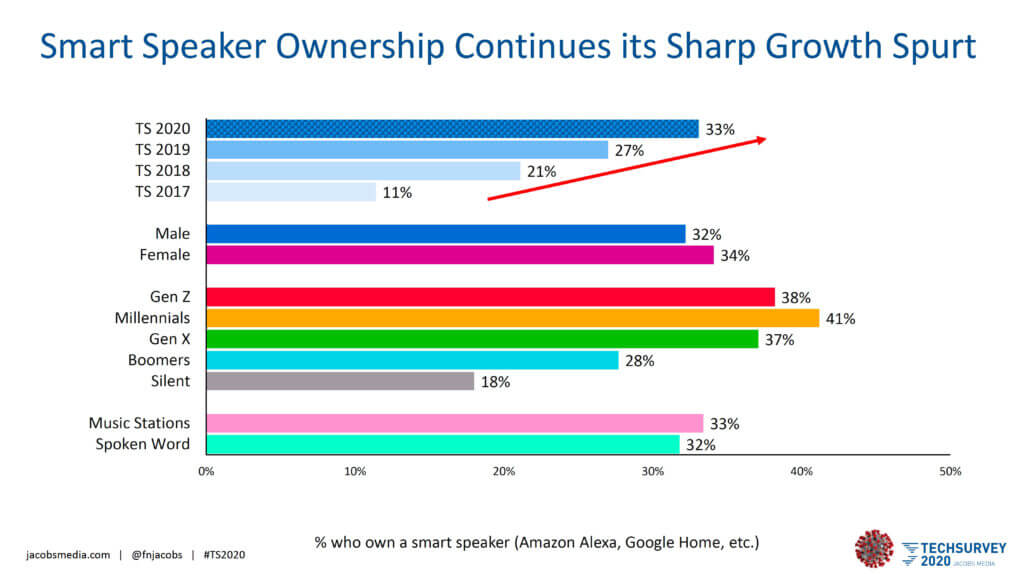 The last thing you want to do is invest massive resources into a brand, only to discover down the road that when your listeners try to pull up your station on their smart speakers, they wind up with another station on the other side of the country.
Even if a voice command does pull up your station, chances are you'll want to pay special attention to how it is retrieved. Do smart speakers get the stream through TuneIn or iHeartRadio? Or do they pull up your stream directly? The difference could have an impact on the revenue your station generates through in-stream advertising.
When setting out to name your new radio stations, here are some factors to consider:
1. Uniqueness Matters
Once upon a time, when picking a name, we only had to worry about the other stations in the same market. Not any more. Because of voice commands, it's now important to take a nationwide — and perhaps even global — perspective when choosing a moniker. At the end of the day, the more stations that have a name similar to yours, the less likely a voice command is to retrieve the correct thing. Before slapping a generic noun or some dude's first name on your station, check to see how many other stations have the same name.
2. Be Wary of Call Letters
There are ways to make generic names more specific, such as using them in conjunction with your dial position or location. For example, "Topeka's Monster Jamz" or "108-8 Roughneck Country" may provide the specificity you need. However, be cautious when using call letters to try to achieve this specificity. Voice commands using call letters usually pull up a station through TuneIn, so going with "W-K-R-P" may not be your best bet. Some stations have gotten around this by dropping the "W" or "K" in their Alexa commands.
3. Test It First
Nothing bets a real world test. Given Amazon's market share, testing on an Alexa-enabled device is most important, but don't overlook Google Home and Siri. See what happens when you try to call up each of your station name candidates.
4. Search Alexa's Skills
On your mobile phone, open the Alexa App (you'll need to install it if you don't already have it). From the menu, select "Skills & Games." Then click on the magnifying glass icon and search for each of your station name possibilities. Go through the results to see how many skills with the same verbiage you are competing against.
For example, when I search for "Mountain," I find 609 skills that use that word. That's a lot of potential confusion.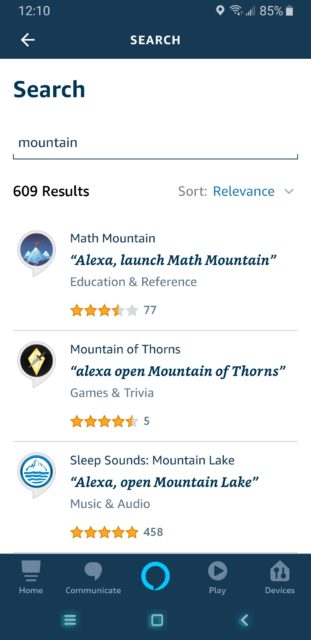 Voice command devices, both in the home and in automobiles, are only going to become more prevalent in the coming years. If you're launching a brand that's built to last, take this into consideration when selecting a name.
For more assistance on digital or social media, contact MAB Member Services at mab@michmab.com or 1-800-968-7622.
Editor's Note: The views and opinions of this article do not necessarily reflect those of the MAB. Contact the MAB for information on the MAB's official editorial policy.