How to Build Radio Station Remote Kits for the Digital Age
By: Seth Resler
Jacobs Media Strategies
As a radio broadcaster, back in the day, my favorite event of the summer was the day that the Warped Tour came to town. As an alternative rock radio station, the Warped Tour inevitably had a dozen or so bands that we wanted to interview. So a team of us would pile into the station van and head to the venue for a long day of backstage broadcasting.
Back then, we sent the airstaff to events like this for only one reason: to conduct audio interviews live on the radio. Today, the internet has given broadcasters far more choices for distributing interviews. These interviews can be used in podcasts, posted as YouTube videos, livestreamed to social media, embedded in blogposts and more. The proliferation of tools like Zoom, Twitch and smartphones equipped with cameras has enabled radio broadcasters to capture video interviews as easily as they used to capture audio-only interviews.
The practice of doing on-site interviews has changed drastically, and the equipment radio stations need to generate the most engaging content has changed, too. Here are three types of remote kits that every radio station should have:
1. The Video Livestreaming Kit
Over the last several years, social media platforms have placed increasing emphasis on the ability to broadcast live video. People can broadcast video to Facebook, YouTube, Instagram, Twitter (Periscope), LinkedIn and Twitch from their phone with a few clicks. This medium makes for particularly compelling content when people can offer audiences a peek behind the scenes — precisely the type of access that radio stations have backstage at concerts and other events.
These days, most people have phones with respectable cameras and microphones in them, so they can create a recording that looks good or sounds good — but they usually can't do both at the same time. After all, the moment you hold the camera far enough away to frame the shot, the microphone picks up all sorts of background noise. This is a recipe for disaster in a loud location like a concert venue. While livestream broadcasts don't need to have Avengers-level production values — in fact, videos that are rough around the edges can give the broadcasts a feeling of authenticity — don't mistake "cinema verité" for "sounds like crap."
A livestreaming kit with the proper equipment will enable you to stream video with reasonable production values. Here's what I recommend:
A Mevo Start camera: The Mevo Start will allow you to broadcast live via wifi or a smartphone hotspot. If you've got the accompanying Vimeo subscription, you can stream to multiple platforms* at the same time.
A Focusrite Scarlet 2i2 audio interface: When streaming video, getting good audio is often the most difficult task. While lugging around a full-blown mixer is overkill for this type of broadcasting, a lightweight 2i2 will enable you to capture quality audio from two different microphones. The unit can draw power from the camera, so you don't need an electrical outlet or battery pack.
Two XLR microphones: For inexpensive microphones that will provide reasonable sound on location, I recommend the ATR2100, the ATR2005 or the Samson Q2U. These are the go-to microphones for beginning podcasters. They can connect via USB or XLR cables, and they're cheap enough that you don't need to worry about it if they get damaged.
3″ extensions for the mic stands: I find that the desktop stand that come with the microphones are too short.
Headphones: After 20 years, I still have my trusty Sony MDR-7506s.
Two XLR cables
A USB C to USB C cable
A tripod for the camera
(*Instagram only allows you to broadcast directly from your phone.)
2. The Podcast Recording Kit
Sometimes your airstaff will find themselves in a situation where they don't want to broadcast their interviews live. Instead, they want to capture audio to be edited and published as a podcast episode later on. In this situation, the key is to capture clean audio in a multi-track recording, meaning that each speaker is recorded on a separate track and can be edited individually. This is useful in case the two speakers talk over each other, or if one is noticeably quieter than the other. If you have a multi-track recording, these issues can be fixed in post-production.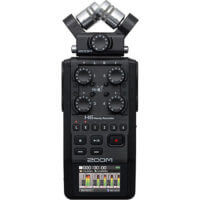 In these types of situations, I prefer to record my interviews using hardware that is designed exclusively for audio recording, rather than on a computer or phone where lots of things can go wrong. Here's the equipment I recommend:
A Zoom H5, Zoom H6 or Tascam DR-40x: These devices will allow you to record multiple microphone inputs to individual tracks.
XLR microphones: Again, ATR2100s, ATR2005s or Samson Q2Us.
XLR cables
3″ extensions for the mic stands
SD cards
Headphones
Extra batteries
3. The Virtual Guest Video Kit
Sometimes, you will want to record a video interview with somebody who is not in the same location. In these situations, I find that relying on your guest's hardware is a recipe for headache. The best way to ensure that you get good audio and good video is to send them the equipment that they need. This is ideal if you have a regularly recurring guest, such as a movie critic who appears on the morning show every Friday. But this kit also works if you have an important one-time guest; purchase a hardshell case for the equipment that will fit in a USPS flat-rate box and mail the kit to your guest with a return mailing label.
Here's what I recommend for this kit:
A USB microphone: an ATR2100, ATR2005 or Samson Q2U
A Logitech c920s camera: This is the go-to entry-level camera for vloggers and livestreamers; it will produce noticeably better picture quality than the camera found in most laptop and desktop computers.
A portable tripod for the camera
A 3″ extension for the microphone stand
A selfie lighting ring (optional)
Of course, these equipment lists are just suggestions. The gear listed here is fairly affordable, leaving plenty of room to up your game if you've got the budget. For example, an audio engineer may prefer higher end microphones, while a videophile may want to look into mirrorless cameras or camcorders. There's more than one way to get these jobs done; the key is that radio broadcasters should have remote kits ready to go for each of these situations.
For more assistance on digital or social media, contact MAB Member Services at mab@michmab.com or 1-800-968-7622.
Editor's Note: The views and opinions of this article do not necessarily reflect those of the MAB. Contact the MAB for information on the MAB's official editorial policy.