WLEN/WQTE Holds Emergency Fundraiser for Local Charity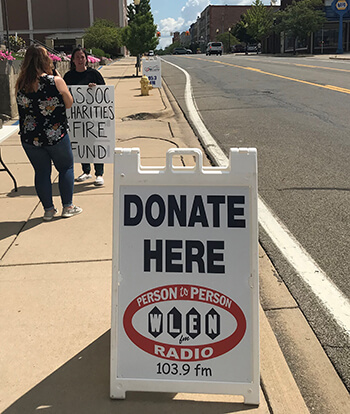 A tragic fire in the early morning hours of Wednesday, August 24 temporarily closed Associated Charities of Lenawee and closed down their back to school distribution of clothing, shoes, backpacks and school supplies to families in need.
In response, WLEN (Lenawee Broadcasting Company) and WQTE (Southeast Michigan Media) Radio stations immediately addressed this catastrophic event with a curbside collection of monetary donations and gift cards.  The drive lasted 2 days at the radio studios in downtown Adrian.  In less than 48 hours, the drive exceeded $70,584.00 in cash and gift cards, collected from individuals, businesses, organizations and foundations.  These funds are being distributed by Associated Charities in the form of gift cards to families to purchase needed back to school clothing, shoes and supplies.
Editor's note: Its worth noting that the stations did this while recovering from a severe lightning strike that took out quite a bit of equipment at the station's studio the previous Saturday.