WDIV-TV THAW Telethon Raises $136k to Keep Families Safe & Warm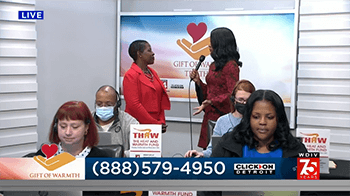 On Giving Tuesday (11/29), Graham Media's WDIV-TV (Detroit) held its annual telethon to benefit THAW, The Heat & Warmth Fund.  THAW, established in 1985, has distributed over $250 million in assistance to more than 280,000 Michigan households since. Anyone can seek help including the elderly, youth, unemployed, underemployed and disabled individuals. THAW says more than 70% of the households it assists have a child or senior in the home.
Every $3.50 donated can cover a full day of electricity for a family; $50 provides a month of WiFi for a family; $110 pays a month of utilities for a family of four; and $320 powers a household of four for a full year.
The annual event aired for 14 hours this past Tuesday and raised $136,000!