Regional Emmy Winners Announced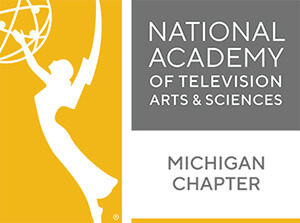 On June 17, the National Academy of Television Arts and Sciences (NATAS)/Michigan presented the 45th Annual Regional EMMY® Awards. The ceremonies were held at the Motor City Casino Sound Board.
Michigan broadcast stations receiving awards included WDIV-TV (including a win for the documentary "Going 4 It: The Inside Story of WDIV"), WILX-TV, WJBK-TV, WKAR-TV, WLNS-TV, WNEM-TV, WOOD-TV, WTVS-TV (including a win for the documentary "A Tribute to Dick Purtan"), WWTV/WWUP-TV, WXMI-TV, WXYZ-TV and WZZM-TV.
The Overall Excellence Award went to WXYZ-TV and its Vice-President/General Manager Mike Murri.  Murri is also the Chairman of the Michigan Association of Broadcasters.
Non-broadcast entities receiving awards were the Archdiocese of Detroit, iMichigan Productions, Comet Interactive, Cutter Studios, Detroit Free Press, Detroit Lions, Detroit Pistons, Detroit Tigers, Great Lakes Water Authority, Kiss the Babies, LLC, Mary Free Bed, Michigan Medicine, Michigan State University, MLive, Robin Schwartz PR, Troy Hale Films/MSU, U of M College of Engineering, Veterans Health Administration and Visionary Entertainment Productions
For a complete list of this year's EMMY® winners and nominees, click here.
The Chapter will announce its winners of the 2023 Student Production Awards on Sunday, April 23.